Esta página también está disponible en español.

Children who have strong friendships and can work through social problems in productive ways are more likely to establish long-term healthy relationships and have greater success in school. Episode 4 explores the many ways that you can foster friendships and teach children the skills needed to work through conflict and, as a result, significantly reduce challenging behavior in your early learning environment.
Watch now: Episode 4, Problems as Opportunities: Teaching Problem-Solving and Friendship Skills!
Each Circle Time Magazine episode includes an educational video delivered in a talk show format. Join us for Episode 4  to learn more about helping children build their problem-solving and friendship skills.
Download your copy: Edition 4, Teaching Problem-Solving and Friendship Skills!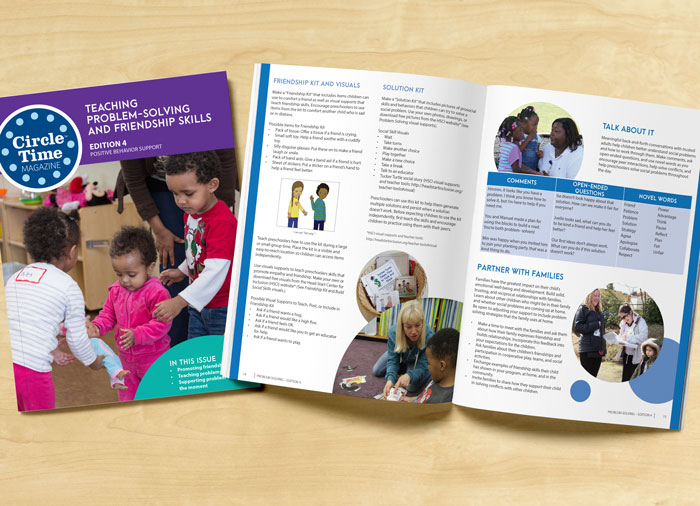 To learn more about Positive Behavior Support (PBS) along with ways to foster strong relationships between children and give them the skills they need to work through conflict and solve problems, download the print version or view the magazine online.
...with this book list to help children build social and emotional skills
Bilingual Book Recommendations:
Gossie and Gertie by Olivia Dunrea (Bilingual: Gansi y Gertie por Olivia Dunrea)
Elephant and Piggie (series) by Mo Willems (Spanish: Elephant & Piggie (series) por Mo Willems)
The Little Red Fort by Brenda Maier and Sonia Sanchez (Spanish: El Fuertecito Rojo por Brenda Maier y Sonia Sanchez)
We're All Wonders by R.J. Palacio (Spanish: Todos Somos Únicos por R.J. Palacio)
Book Recommendations:
Fox Makes Friends by Adam Relf
Join In and Play by Cheri Meiners
Talk and Work It Out by Cheri Meiners
Blocks by Irene Dickson
Giraffe Meets Bird by Rebecca Bender
The Rabbit Listened by Cori Doerrfeld
ABC for You and Me by Meg Girnis
A Tale of Two Mommies by Vanita Oelschlager
Jacob's New Dress by Sarah Hoffman and Ian Hoffman
Mommy's Khimar by Jamilah Thompkins-Bigelow
Helpful Resources—Episode 4: Teaching Problem-Solving and Friendship Skills
with this collection of additional reading on the main topics of each episode.
Try these Learning Activities...
and improve your practice by engaging in these activities designed to help you put your knowledge into practice.
with these video exemplars that showcase the concepts discussed in the show and magazine, in practice.
Reflect on Bias and Behavior...
with these resources to increase your self-awareness and address unconscious biases that are likely to be impacting children in your program.
TRANSLATION NOTE: Please be aware that there might be slight discrepancies and minor differences between the posted, printed, or electronic text in English and the corresponding Spanish translation, due to the editing and updating of the different versions.
Please contact us at cultiv8@uw.edu if you have questions about Circle Time Magazine. Like Cultivate Learning on Facebook and Instagram to stay connected to our latest work.
Want more of Circle Time Magazine?
We've got whole collection of episodes for you to dive into. Check out more of Positive Support Edition.