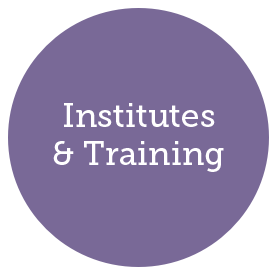 Our institutes and trainings bring together experts in the field of early childhood education and expanded learning opportunities to inspire best practices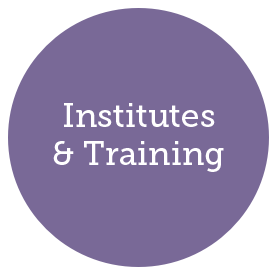 Our institutes and trainings bring together experts in the field of early childhood education and expanded learning opportunities to inspire best practices
Cultivate Learning held its first Quality Institute in 2013. Since then, we have continued to conduct these Institutes across Washington State. Bringing together family early education providers, coaches, teachers, program directors, faculty, and wrap-around service providers to advance quality learning for all children in the State of Washington, Quality Institutes offer high-quality, multilingual professional learning, and networking opportunities for  participants.
Institutes are an opportunity for team building, community connections, and earning STARS and Clock hours. Skills-building workshops and session topics range from improving instructional support to incorporating developmental screenings. Themes include positive behavior support, STEM education, social emotional learning, restorative justice, leadership training, infant and toddler care, engaging interactions, how to use tools like Creative Curriculum and Teaching Strategies Gold, and how to create high-quality learning environments. Sessions are offered in English, Spanish, and Somali. We provide additional translation services upon request.
In partnership with the Department of Children, Youth & Families, Child Care Aware of Washington, and the Bill & Melinda Gates Foundation, we offer Creative Curriculum training for every role in the field, including educators, family child care providers, administrators, directors, and coaches who participate in Early Achievers.
Upcoming Early Achievers Sponsored Institutes & Training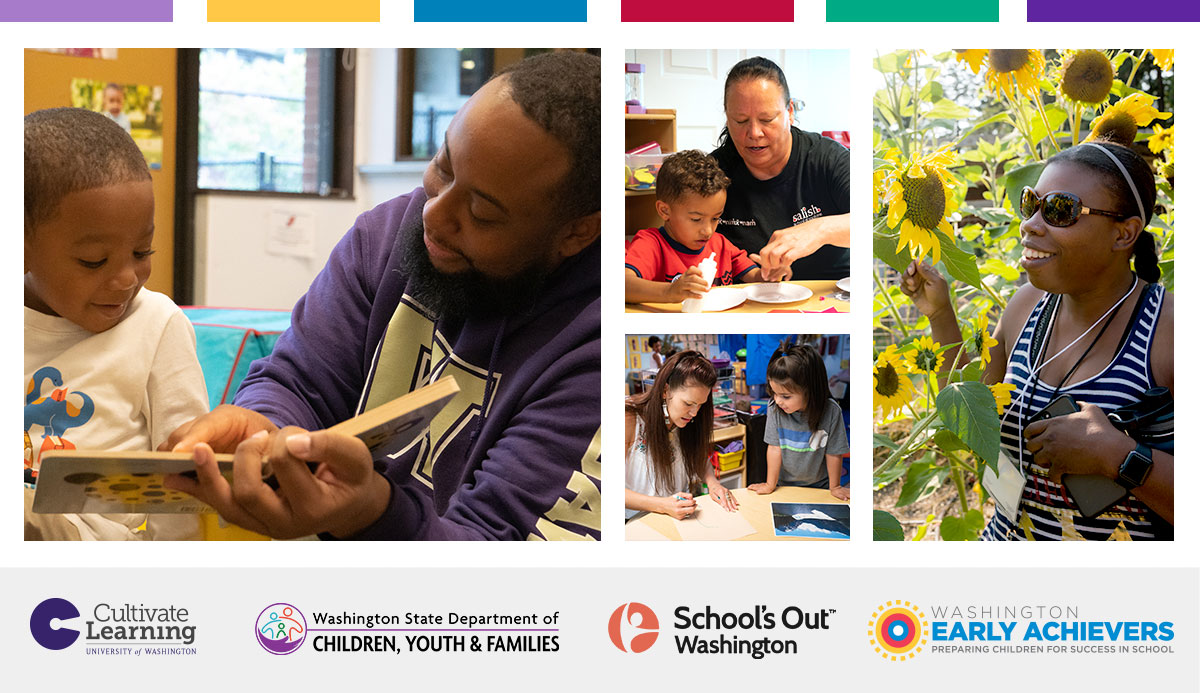 Washington Early Achievers Institute
Nurturing the Nurturer: Cultivating Educator Resilience and Wellness
When: May 22-30, 2021
Where: Virtual Format
Cost: Free
Who: This institute is available to all educators within the state of Washington.
What: Access on-demand Institute sessions to view at your own pace for STARS credit hours. See updated agenda below to confirm which sessions are available.
For Institute related questions, email us at eaihelp@uw.edu.
Past Institutes & Training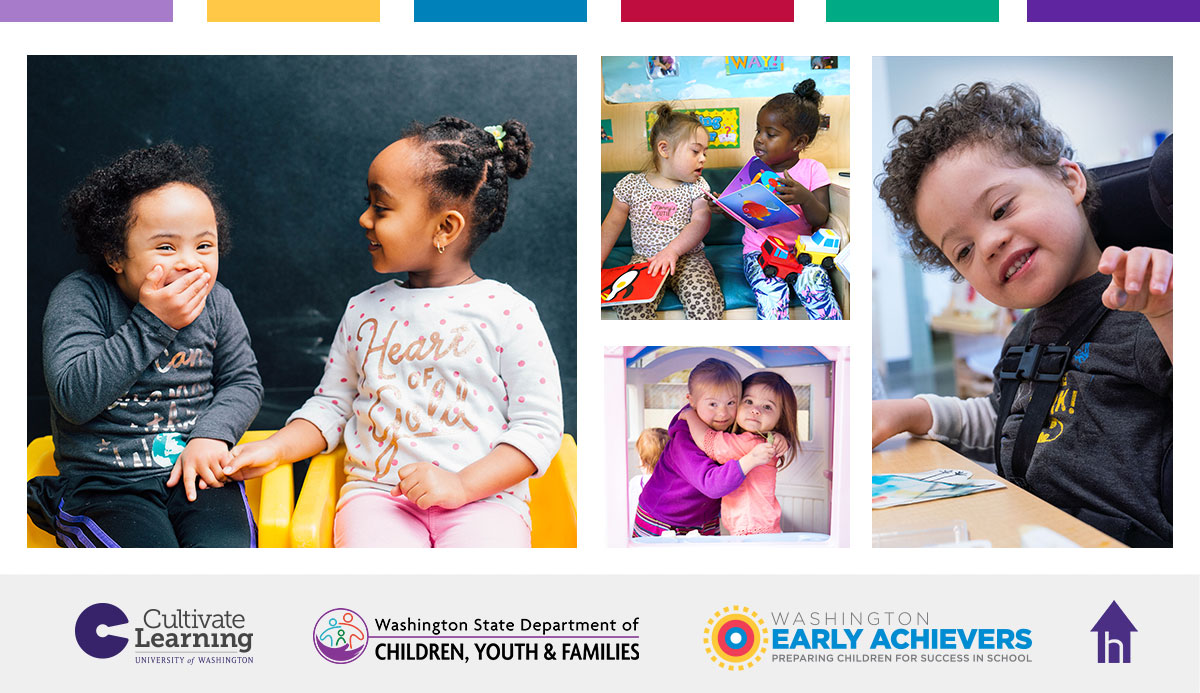 Washington Early Achievers Institute: Promoting Inclusive Practices for all Children
When: December 1-5, 2020
Where: Virtual Conference
Cost: Free
Who: All childcare providers who teach children up to age 12 who want to learn research- backed strategies to promote accessible and inclusive learning environments.
October 18-20, 2019 / 18 - 20 de octubre del 2019
Virtual Quality Institute! / Instituto virtual de Calidad!
A virtual professional development opportunity to share quality care and evidence-based practices supporting children and caregivers.
Una oportunidad de desarrollo profesional virtual que tiene el fin de compartir prácticas para cuidados de calidad basadas en evidencias, que apoyan a los niños y a los proveedores de cuidados.
Fursadaha horumarinta xirfadeed ee khibradda leh si loo wadaago daryeelka tayada iyo waxqabadka ku saleysan caddaynta ee taageeraya carruurta iyo daryeel-bixiyeyaasha
Shirka waxuu ka dhacaa onlinka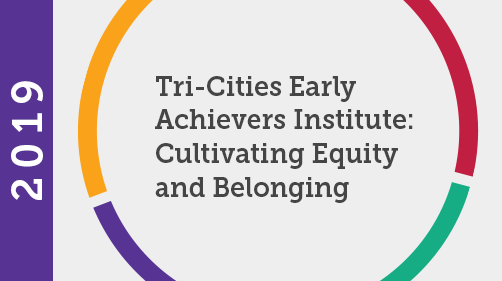 October 18-20, 2019 / 18 - 20 de octubre del 2019
Tri-Cities Early Achievers Institute: Cultivating Equity and Belonging
Instituto de Early Achievers en Tri-Cities: Cultivando la Equidad y el Sentido de Pertenencia
Location / Ubicación: Red Lion Hotel Kennewick Columbia Center, 1101 North Columbia Center Boulevard, Kennewick, WA 99336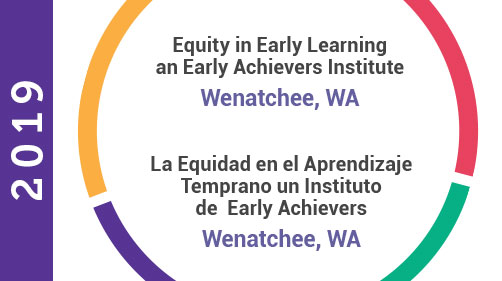 March 29-31, 2019 / 29-31 de marzo del 2019
Equity in Early Learning an Early Achievers Institute
La Equidad en el Aprendizaje Temprano un Instituto de Early Achievers
Location: Wenatchee Convention Center, Wenatchee, WA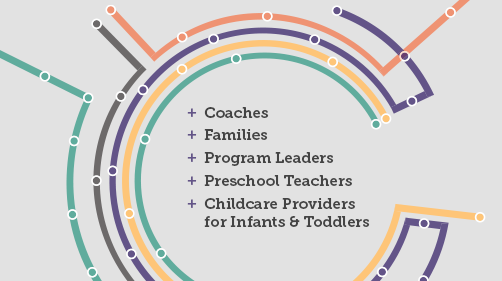 Equity Focused Positive Behavior Support: An Early Achievers Institute
August 13-16, 2018
Coaches, Preschool Teachers, Families, Childcare Providers for Infants & Toddlers, and Program Leaders engaged in a variety of topics, including social emotional learning, race and equity, positive behavior support, and adult resiliency and wellness.
Location: Hyatt Regency Lake Washington at Seattle's Seaport, Renton, WA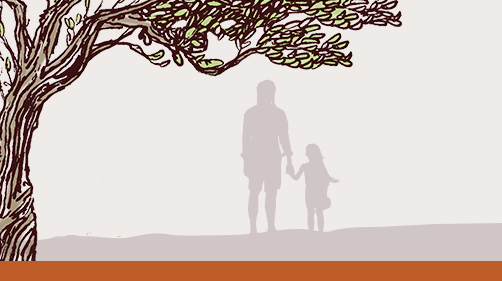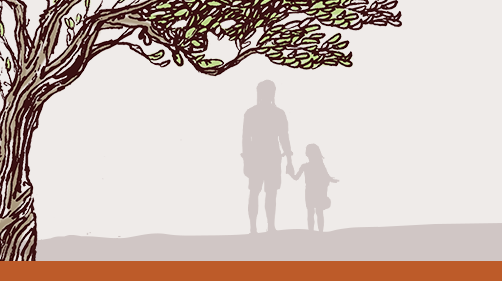 Nurturing Learning: The Latest Science on Young Children's Learning and the Outdoors
August 5-8, 2018
This institute focused on increasing and improving opportunities for children to learn in the outdoors.
Location: IslandWood, Bainbridge Island, WA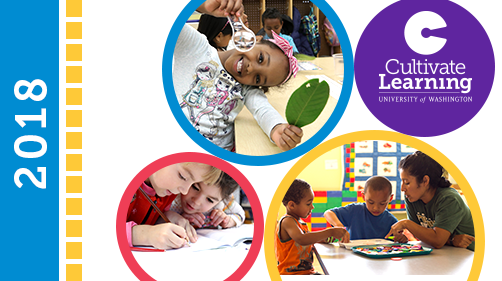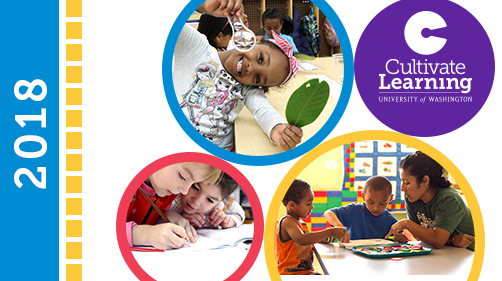 Central Washington Early Achievers Bilingual Institute
July 13-15, 2018
This bilingual (Spanish/English) institute highlighted best practices in positive behavior support, STEAM, and more.
Location: Yakima Valley Visitors and Convention Center, Yakima, WA