Esta página también está disponible en español.

Inclusion is at the heart of Season 3, and Episode 1 examines from multiple perspectives what access, participation, support—and more—for children with disabilities and their families means. On this page, explore Circle Time Magazine's resources for promoting inclusion.
Watch now: Episode 1, What is Inclusion? Being Accepted, Respected, and Valued!
Each Circle Time Magazine episode includes an educational video delivered in talk show format. Join us for Episode 1 to learn more about inclusion.
Download your copy of Access, Participation, and Support!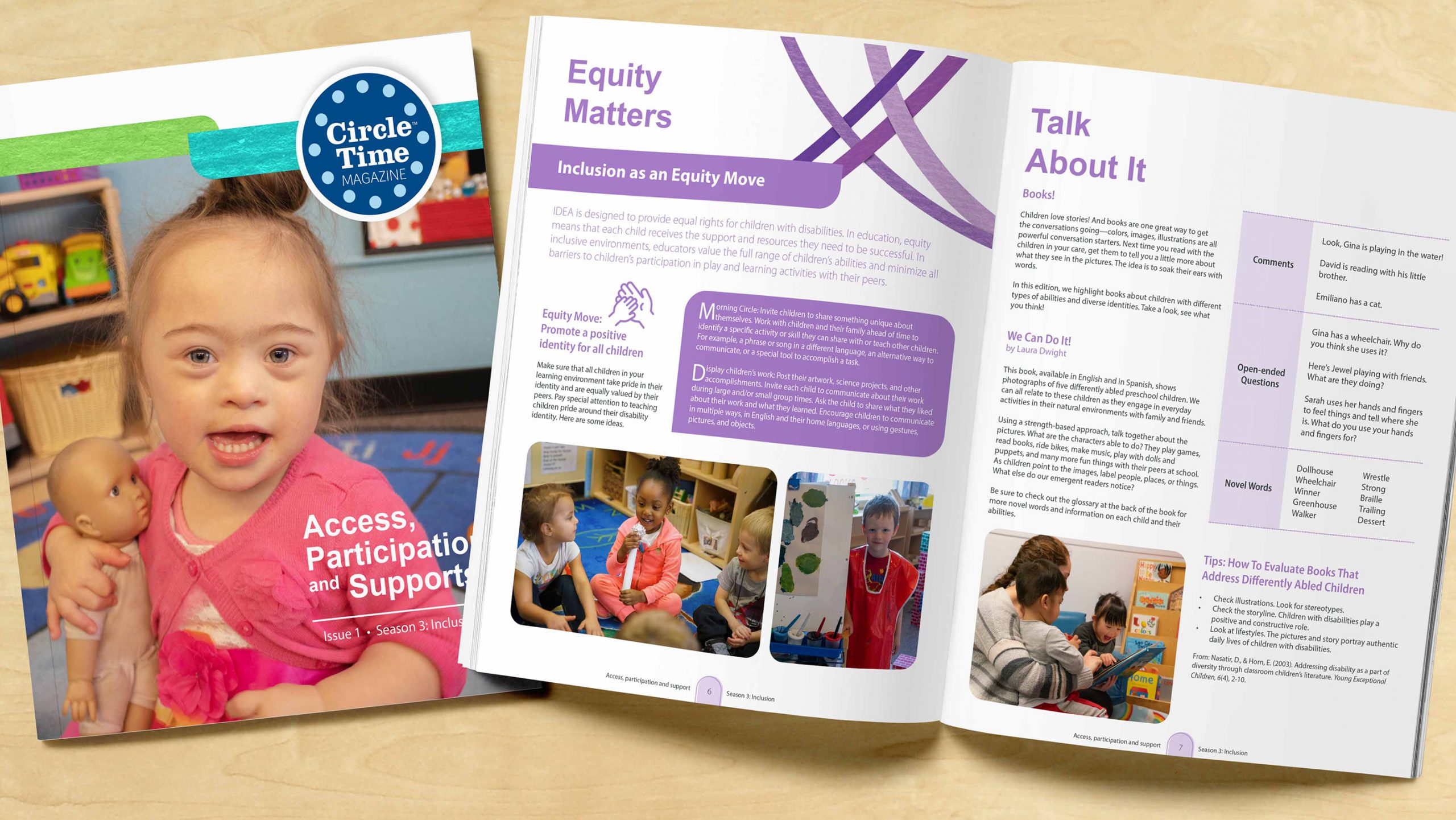 For more about supporting children with disabilities and ways to increase children's access to and participation in early learning activities and routines download the print version or view the magazine online.
Bonus Video: Disability Law Video!
Check out this quick overview of disability law as it relates to early childhood.
We Can Do It! by Laura Dwight
The Snow Rabbit by Camille Garouche
Marisol McDonald Doesn't Match by Monica Brown
Susan Laughs by Jeanne Willis
One, Two, Three…Jump! By Carol Thompson
Helpful Resources—Episode 1: What is Inclusion? Being Accepted, Respected, and Valued
This website, mentioned in the episode, was created by our guest, Alex Igra. An introduction to the IEP process, it covers placement, accommodations, goals, discipline, and common pitfalls.
A webinar that promotes the participation of all children and explores laws, policies, and evidence-based practices that foster a sense of belonging.
A useful fact sheet on research that supports the benefits of inclusion for all children.
This Disabilities Services Newsletter offers resources for designing environments that create equitable access to learning.
Information and synopses of children's and young adult literature about, or having to do with, people with disabilities. Click on each topic and look for recommended books on specific disabilities.
TRANSLATION NOTE: Please be aware that there might be slight discrepancies and minor differences between the posted, printed, or electronic text in English and the corresponding Spanish translation, due to the editing and updating of the different versions.
Please contact us at cultiv8@uw.edu if you have questions about Circle Time Magazine. Like Cultivate Learning on Facebook and Instagram to stay connected to our latest work.
Want more of Circle Time Magazine?
We've got whole collection of episodes for you to dive into. Check out more of Season 3.