Esta página también está disponible en español.

Explore the resources on this page to learn all about how to make small changes that can have a big impact on children's access and participation in the learning environment.
Watch now: Episode 3, Supporting Inclusive Environments!
Watch episode 3 of our professional development talk show to learn about curriculum modifications and environmental supports for both inside and outside the classroom.
Download your copy of Environmental Supports!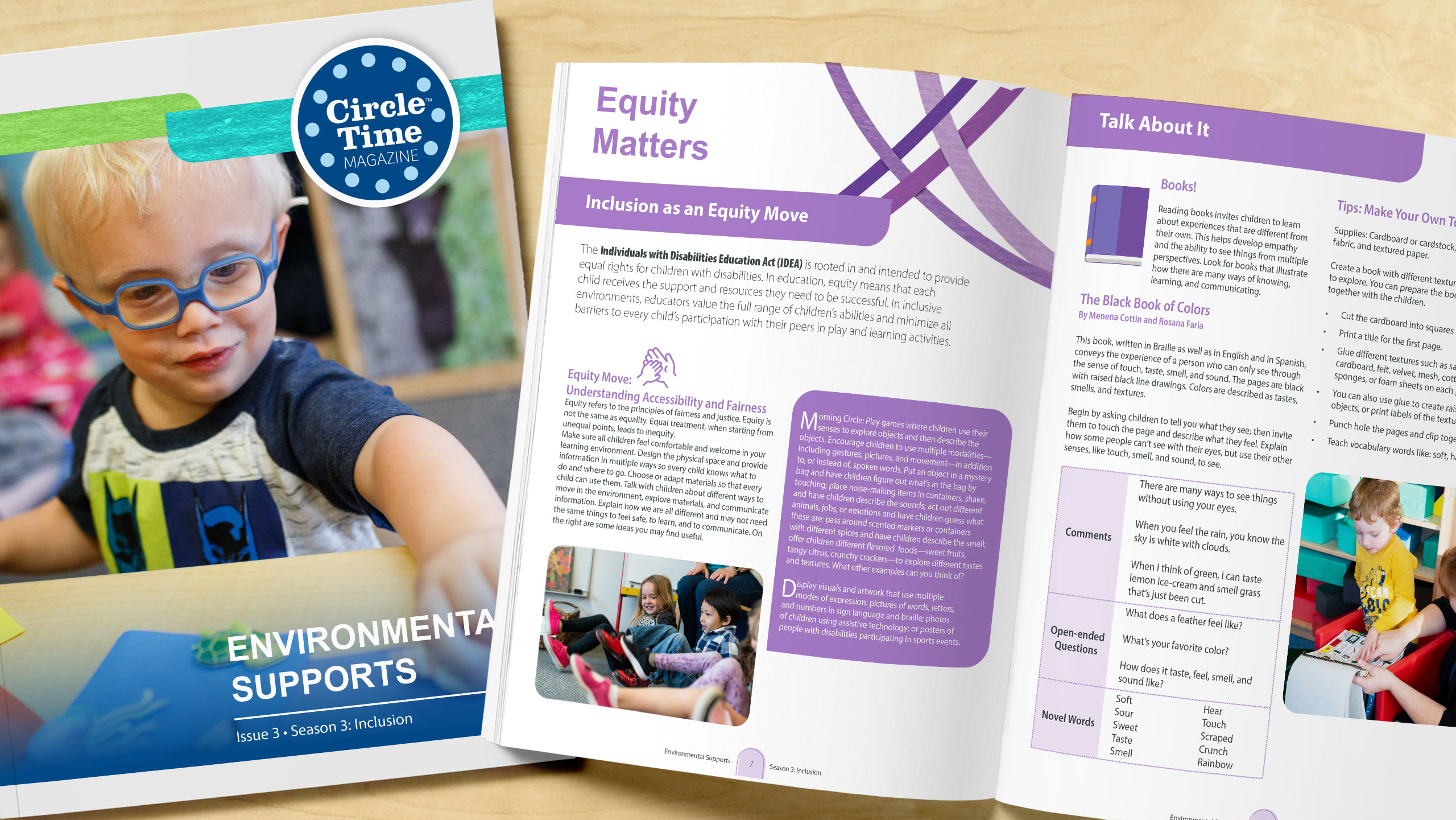 To learn more about creating inclusive environments through environmental supports, individualizing, and understanding accessibility and fairness, download the print version or view the magazine online.
Dive into Books…with this booklist that supports inclusion
Bilingual Book Recommendations:
The Black Book of Colors by Menena Cottin
Spanish: El libro negro de los colores por Menena Cottin
We're All Wonders by R.J. Palacio
Spanish: Wonder. Todos somos únicos por R.J. Palacio
Book Recommendations: 
Keisha's Doors by Marvie Ellis
Espanol: Las puertas de Keisha por Marie Ellis
Ian's Walk by Laurie Lears
Don't Call Me Special by Pat Thomas
Hello Goodbye Dog by Maria Gianferrari
King for a Day by Ruksana Khan
Baby Loves Sight by Ruth Spiro
Baby Loves Hearing by Ruth Spiro
Off to the Park by Stephen Cheathams
Helpful Resources—Season 3, Episode 3: Supporting Inclusive Environments
This 15-minute in-service suite is the introduction to a set of suites about curriculum modifications. Visit the ECLKC to access a suite on each type of modification. Each suite contains a PowerPoint, videos, learning activities, tools for supervisors, and tips for educators on evidence-based teaching strategies.
For children that need additional support beyond the foundation take some time to assess them to figure out what supports to provide next. This form helps you get clear on what the classroom expectations are, provides a space to collect data, and you can use the data to inform the child's level of performance.
Curriculum modifications are one way you can individualize to meet a child's learning goals. This 15-minute in-service suite on individualizing is full of information on how to observe, collect data, modify, and plan for meeting individual needs.
This site contains visual supports to use throughout your learning environment. These tools are designed to be able to print and go with quick and easy explanations. They are also editable files so you can make them your own.
This is the inspiring website from our guests Paige Reischl and Shawn Rundell who are working to create an inclusive park in their community.
TRANSLATION NOTE: Please be aware that there might be slight discrepancies and minor differences between the posted, printed, or electronic text in English and the corresponding Spanish translation, due to the editing and updating of the different versions.
Please contact us at cultiv8@uw.edu if you have questions about Circle Time Magazine. Like Cultivate Learning on Facebook and Instagram to stay connected to our latest work.
Want more of Circle Time Magazine?
We've got whole collection of episodes for you to dive into. Check out more of Season 3.