Esta página también está disponible en español.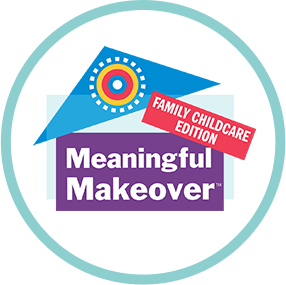 Meaningful Makeover: Season 1
Meaningful Makeover: Season 1
Enhance Your Early Learning Environment with a Meaningful Makeover!
Need some inspiring ideas to create a more engaging early learning environment? Meaningful Makeover videos offer tips, visuals, and inexpensive solutions. Watch our educational environment experts as they team up with educators to dynamically make over early learning spaces. See how and why key design elements promote learning opportunities—and discover simple improvements you can make immediately. In the episodes below, you will see our makeover teams in action!
We want to hear from you!
Please complete the evaluation and let us know what you think of the episodes.
Season 1, Episode 1: Pammy's Tots Makeover
In this first episode, we meet Pam Carino who has been teaching in her own Family Childcare for over 30 years. This episode features a number of small changes that make efficient use of the space and maximize play and learning opportunities for children.
Season 1, Episode 2: Friends of the ABC Makeover
In Episode 2 we meet Nathan and Clare who have recently moved their Family Childcare to a new location. Utilizing a $500 budget the makeover crew works with Nathan and Clare to:
Improve the flow of daily activities so that children spend more time engaged in learning.
Make materials more accessible so children can use them easily and with greater independence.
Add ready-to-go activities that provide additional learning opportunities.
Season 1, Episode 3: Ayan Family Childcare Makeover
Join us for Episode 3 where you'll meet Faduma, owner of Ayan Family Childcare—named after her daughter. Watch the makeover team demonstrate and discuss changes that:
Add more learning opportunities.
Define and reconfigure play areas to better meet the needs of infants, toddlers, and preschoolers.
Make classroom materials easier to reach and use.
See how DeEtta creates a sensory bin out of PVC pipe and be inspired to do it yourself.