Esta página también está disponible en español.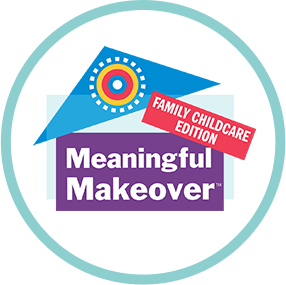 Meaningful Makeover: Season 3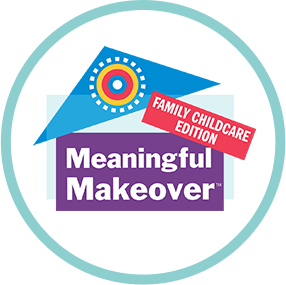 Meaningful Makeover: Season 3
Enhance Your Early Learning Environment with a Meaningful Makeover!
Need some inspiring ideas to create a more engaging early learning environment? Meaningful Makeover videos offer tips, visuals, and inexpensive solutions. Watch our educational environment experts as they team up with educators to dynamically remake early learning spaces. See how and why key design elements promote learning opportunities—and discover simple improvements you can do immediately. In the episodes below, you'll see our makeover teams in action!
We want to hear from you!
Please complete the evaluation and let us know what you think of the episodes.
Season 3, Episode 1: Crystal Care Daycare Makeover
Season 3 begins at Crystal Care Daycare owned by Crystal Thorpe who has been running her family childcare for 22 years. The crew accomplished a lot in one day with making over two rooms and organizing extra materials in storage. The second room was transformed into a STEAM room to make it more usable for the older preschoolers. In the main room, we further defined the space for the infants and made adjustments tailored to children's interests. We built a desk that functions as a meal prep area, so Crystal doesn't have to go up and down her stairs to prep and provide meals. Hang on until the end where DeEtta shows us how to make a DIY light table!
Season 3, Episode 2: Little Rainbow Daycare
Join us as we makeover Little Rainbow Daycare owned by Sepideh Abtahi. We used natural materials to add a variety of new DIY activities for children to explore including painted rock sorting, binoculars, nesting boxes, sensory bottles, and a clear container transformed into a planter so the children can see the roots. Sepideh has Farsi, Hindi, and English-speaking children so wherever possible we included labels in each language. We created a space for circle time, added a felt board activities, increased the cubby space and transformed a cork board by adding clear contact paper so children's artwork can be taped to it instead of using thumb tacks
Season 3: Episode 3: My's Childcare Makeover
In this episode we visit Ngoc Le owner of My's Childcare. Special Thanks to Janet Nguyen, one of our data collectors, who stepped in as co-host! Ngoc's site is a fully enrolled, multi-age and bilingual site. The infants needed their own space so we added a play yard that babies can safely explore. Ngoc had a second room that was licensed space but unused. We took this opportunity to create a STEAM room for the older preschoolers. Much of this episode was filmed in Vietnamese and to support bilingual language development we added song cards and children's books in Vietnamese. We also created some individualized environmental supports for a child with a disability. Also, check out DeEtta's solution for a DIY puzzle shelf.