Esta página también está disponible en español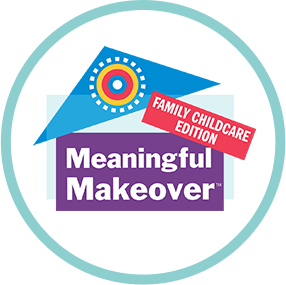 Meaningful Makeover: Season 4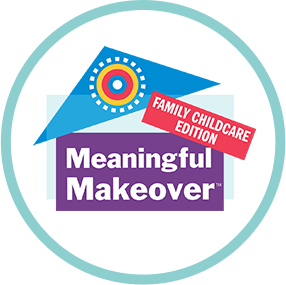 Meaningful Makeover: Season 4
Enhance Your Early Learning Environment with a Meaningful Makeover!
Need some inspiring ideas to create a more engaging early learning environment? Meaningful Makeover videos offer tips, visuals, and inexpensive solutions. Watch our educational environment experts as they team up with educators to dynamically remake early learning spaces. See how and why key design elements promote learning opportunities—and discover simple improvements you can do immediately. In the episodes below, you'll see our makeover teams in action!
We want to hear from you!
Please complete the evaluation and let us know what you think of the episodes.
Season 4, Episode 1: Gratitude Gardens Makeover
This season kicks off at Gratitude Gardens. This program is owned by Carolina and Freddy Perez who have two young daughters that also attend the program.
In this episode we help Freddy and Carolina:
define learning areas by rearranging existing furniture and adding accessible shelving and rugs.
revamp the morning smoothie routine with a kitchen table upgrade and some trays to make cleaning up a breeze.
get started with a music curriculum since music plays a central role at Gratitude Gardens.
Special thanks to Kindermusik for donating a music curriculum.
Season 4, Episode 2: Brandy's Buddies Makeover
This is the first outdoor episode of Meaningful Makeover!
In this episode, we meet Brandy Parkinson, owner of Brandy's Buddies, and her family as they work together to create an outdoor learning environment.
This is a new space for Brandy's program, tune in to see what Brandy decides to do with her garden area and how the outdoor learning environment starts to take shape with the addition of a greenhouse, a mud kitchen, a music wall and a sensory path.
Season 4: Episode 3: Caring Tus Cariños Makeover
In this episode we meet Carmina Abrego, the owner of Caring tus Cariños.
We focused on helping Carmina manage the common issue of having separate rooms with only one educator. Tune in to see how we helped get the space organized and created defined learning areas. We did this by:
Budgeting for an adjustable table with twelve chairs, shelving and rugs to help define the learning areas.
giving the dramatic play area its own makeover with a new play kitchen and a storage closet to keep the new dress-up materials organized.