For materials on this topic in English, Spanish, and Somali

When infants and young children can count on an environment to be safe, predictable, and supportive, the more likely they are to develop skills needed to deal with challenging situations. Episode 2 discusses how to create those positive environments with small changes that can make a world of difference.
Watch now: Episode 2, Planning Ahead: Environments that Support Positive Behavior!
Join us for episode 2 of Circle Time Magazine to see how the environment can be designed to help children communicate effectively, and much more!
Download your copy: Edition 2: Environments that Support Positive Behavior!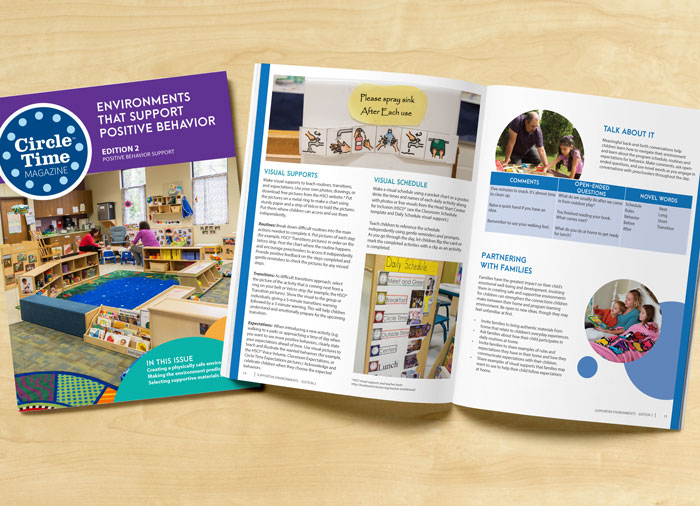 To learn more about Positive Behavior Support (PBS) and how creating a nurturing and predictable learning environment can help children manage their behavior download the print version or view the magazine online.
Bilingual Book Recommendations:
Know and Follow the Rules by Cheri Meiners (Bilingual: Saber y seguir las reglas por Cheri Meiners)
Hands are not for Hitting by Martine Agassi (Bilingual: Las Manos no son Para Pegar por Martine Agassi)
Teeth are Not for Biting by Elizabeth Verdict (Bilingual: Los dientes no son Para Morder por Elizabeth Verdict)
Let's Play in the Forest by Claude Rueda (Bilingual: Juguemos en el Bosque por Claude Rueda)
Leo Loves Baby Time by Anna McQuinn (Bilingual: A Leo le gusta Bebelandia por Anna McQuinn)
Book Recommendations:
Little Dinos Don't Hit by Michael Dahl
Little Tiger Picks Up by Michael Dahl
Bella's Rules by Elissa Haden Guest
Please Baby Please by Spike Lee & Tonya Lewis Lee
Dinosaur vs. School by Bob Shea
Trashy Town by Andrea Zimmerman & David Clemesha
Kitty Cat, Kitty Cat, Are You Going to Sleep? by Michael Sampson
Helpful Resources—Episode 2: Environments that Support Positive Behavior
with this collection of additional reading on the main topics of each episode.
Try these Learning Activities...
and improve your practice by engaging in these activities designed to help you put your knowledge into practice.
with these video exemplars that showcase the concepts discussed in the show and magazine, in practice.
Reflect on Bias and Behavior...
with these resources to increase your self-awareness and address unconscious biases that are likely to be impacting children in your program.
TRANSLATION NOTE: Please be aware that there might be slight discrepancies and minor differences between the posted, printed, or electronic text in English and the corresponding Spanish translation, due to the editing and updating of the different versions.
Please contact us at cultiv8@uw.edu if you have questions about Circle Time Magazine. Like Cultivate Learning on Facebook and Instagram to stay connected to our latest work.
Want more of Circle Time Magazine?
We've got whole collection of episodes for you to dive into. Check out more of Positive Support Edition.