Esta página también está disponible en español.

Inclusion happens through planning! Explore the resources on this page for proven tools you can use throughout the day to support and provide effective instruction to children with disabilities.
Watch now: Episode 2, Making Inclusion Happen Through Planning!
Each Circle Time Magazine episode includes an educational video delivered in talk show format. Join us for Episode 2 to learn more about planning for inclusion.
Download your copy of Planning for Inclusion!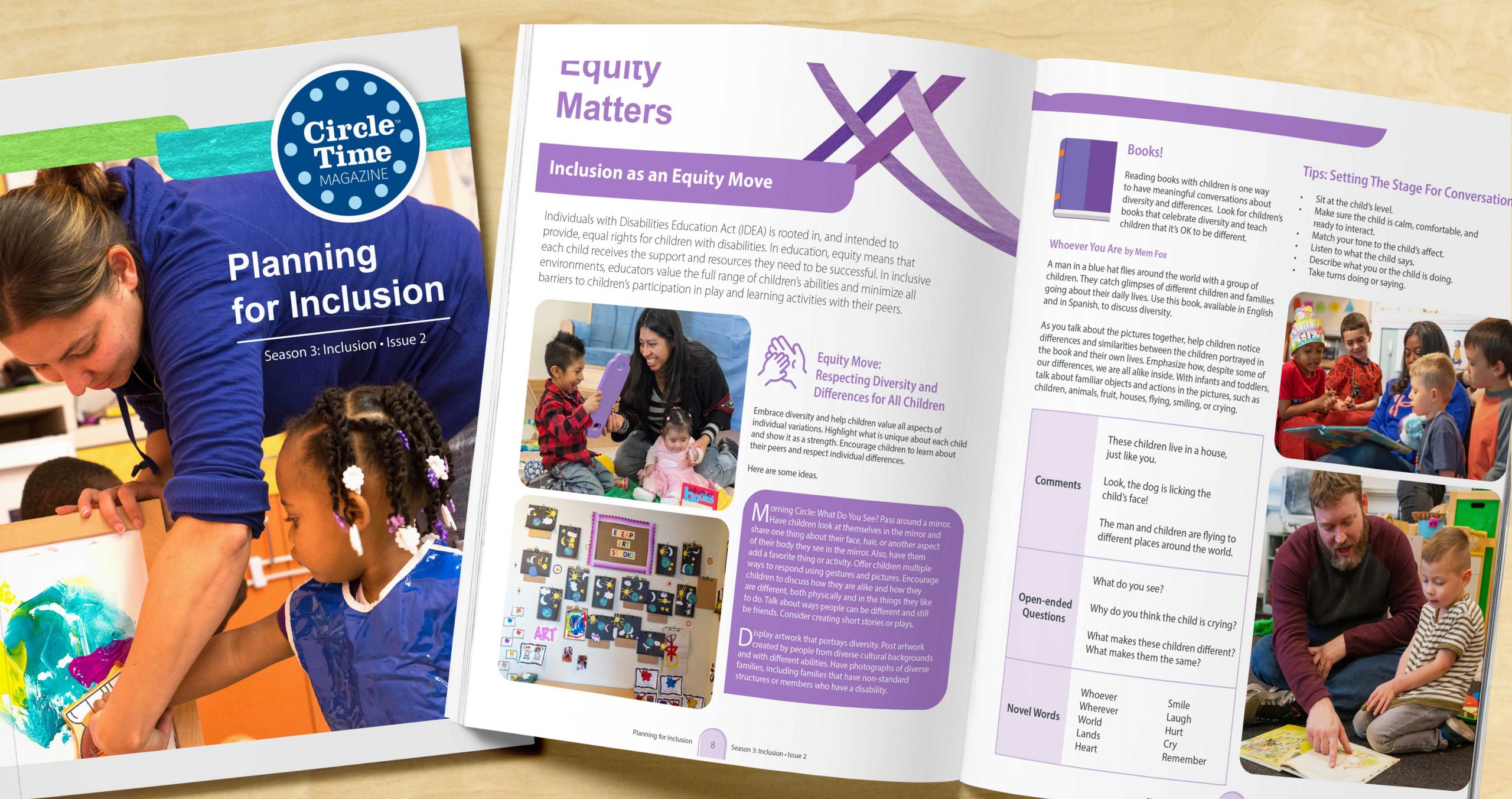 To learn more about how to plan for successful inclusion and get some good tips for providing adult support, download the print version or view the magazine online.
…with this booklist that supports inclusion.
Bilingual Book Recommendation:
Whoever You Are by Mem Fox
Spanish version: Quienquiera que seas por Mem Fox
Let's Talk: My Friend Has Down Syndrome by Jennifer Moore-Mallinos
Spanish version: Mi amiga tiene el sindrome de Down (Hablemos de esto!) por Jennifer Moore-Mallinos
The Other Bears by Michael Thompson
Spanish version: Los otros osos por Michael Thompson
We Are Family by Patricia Hegarty
Book Recommendations:
All Are Welcome by Alexandra Penfold
Lovely by Jess Hong
Noah Chases the Wind by Michelle Worthington
What's the Difference? by Doyin Richards
Hands and Hearts: With 15 Words in American Sign Language by Donna Jo Napoli
Not So Different: What You Really Want to Ask About Having a Disability by Shane Burcaw
15-minute In-Service Suites are training suites that contain PowerPoints, videos, learning activities, tools for supervisors, and tips for teachers on evidence-based teaching strategies. Below is a list of In-Service Suites that expand on the topics covered in this episode.
A website shared by our guest Dr. Jenny Cunningham that features the strategies she mentions on the show. KidTalk is a research intervention where children typically learn new vocabulary, talk in longer sentences, and develop strong, positive relationships with their parents, teachers and peers.
A web page from the CDC with information links to further resources about supporting speech and language disorders in young children.
This resource from the National Association for the Education of Young Children provides tips for making early learning environments more successful.
This resource contains the Backpack Connection Series, a useful tool for helping educators and families work together to support children's social and emotional development.
TRANSLATION NOTE: Please be aware that there might be slight discrepancies and minor differences between the posted, printed, or electronic text in English and the corresponding Spanish translation, due to the editing and updating of the different versions.
Please contact us at cultiv8@uw.edu if you have questions about Circle Time Magazine. Like Cultivate Learning on Facebook and Instagram to stay connected to our latest work.
Want more of Circle Time Magazine?
We've got whole collection of episodes for you to dive into. Check out more of Season 3.