Esta página también está disponible en español.

On this page you can explore resources for facilitating positive social interactions in inclusive settings, including teaching friendships skills and creating caring environments.
Watch now: Episode 4, Play Together: Inclusive Social Interactions!
Watch episode 4 of our professional development talk show to learn about positive social interactions, such as snack talk and buddy day, that benefit each child.
Download your copy of Playing Together - Inclusive Social Interactions!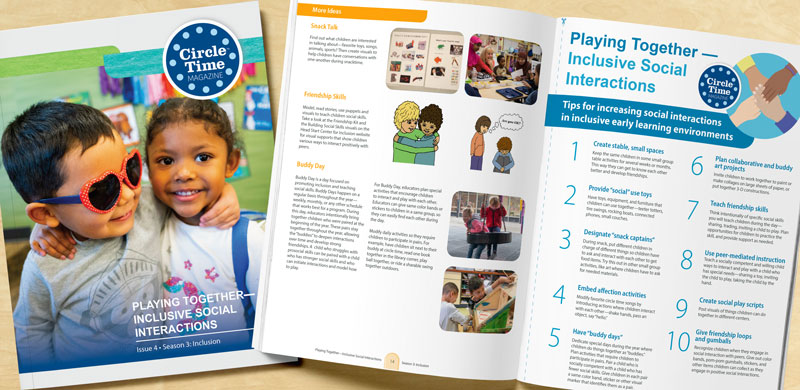 To get more ideas about creating opportunities for children to interact and develop friendships,  download the print version or view the magazine online.
Dive into Books…with this booklist that supports inclusion
Amazing by Steve Antony
A Rainbow of Friends by P.K. Hallinan
A Very Special Critter by Mercer and Gina Mayer
Dan and Diesel by Charlotte Hudson
Frederick by Leo Lionni
Friends at School by Rochelle Bunnett
Joy by Corrinne Averiss
Looking After Louis by Lesley Ely
The Big Umbrella by Amy June Bates
The Deaf Musicians by Pete Seeger
The Rainbow Fish by Marcus Pfister
These examples of snack talk cards, which you can use to encourage conversations during meal times, are ready to print and use!
Check out this 5-minute TedTalk style presentation by one of our guests in Episode 4 as she describes Snack Talk.
This resource supports the information Dr. Gail Joseph shared during the episode about peer-mediated intervention. It is an easy-to-read, "how to" information packet of evidence-based practices on why it is important to teach positive social skills.
In this suite, learn how teachers can create a caring classroom community. Discover ways to model and promote positive social behaviors in the classroom.
This print-and-go resource can also serve as a poster that provides visual support and guidance to help children engage in social interaction.
TRANSLATION NOTE: Please be aware that there might be slight discrepancies and minor differences between the posted, printed, or electronic text in English and the corresponding Spanish translation, due to the editing and updating of the different versions.
Please contact us at cultiv8@uw.edu if you have questions about Circle Time Magazine. Like Cultivate Learning on Facebook and Instagram to stay connected to our latest work.
Want more of Circle Time Magazine?
We've got whole collection of episodes for you to dive into. Check out more of Season 3.