In this episode we'll be focusing on the social emotional learning (SEL) skills of self-awareness, social awareness, and relationship skills. We'll talk about why it is important for children and adults to be aware of themselves and be aware of others. We'll be exploring all of this in context of anti-racist and culturally responsive teaching.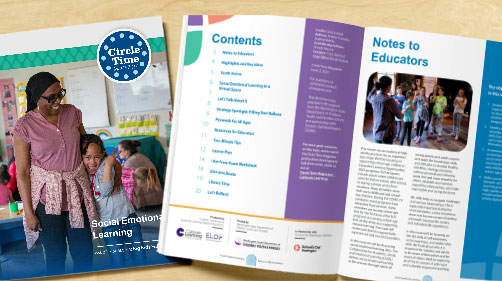 Each Circle Time Magazine episode includes an educational video delivered in talk show format. Join us for Episode 2 to learn more about social emotional learning.
Helpful Resources—Episode 2: Social Emotional Learning
Books for kids: 
Read aloud: 
I am Peace by Susan Verde

When Sophie Gets Really, Really Angry

by Molly Bang

Cuando Sofía se enoja, se enoja de veras

(Spanish Edition) by Molly Bang

Charlotte and the Quiet Place by Deborah Sosin
Pensamientos by Alexis Ruginis
Chapter books for readers 8 years and older:
El Deafo

by Cece Bell

Healer of the Water Monster

By Brian Young

Jo Jo Makoons: The Used-to-Be Best Friend

by Dawn Quigley

Rules

by Cynthia Lord
TRANSLATION NOTE: Please be aware that there might be slight discrepancies and minor differences between the posted, printed, or electronic text in English and the corresponding Spanish translation, due to the editing and updating of the different versions.
Please contact us at cultiv8@uw.edu if you have questions about Circle Time Magazine. Like Cultivate Learning on Facebook and Instagram to stay connected to our latest work.
Want more of Circle Time Magazine?
We've got whole collection of episodes for you to dive into. Check out more of Season 4.